LED Macro Ring Flash For Canon Nikon Olympus 50% OFF
---
Sale price
$55.00
Regular price
$110.00
Features: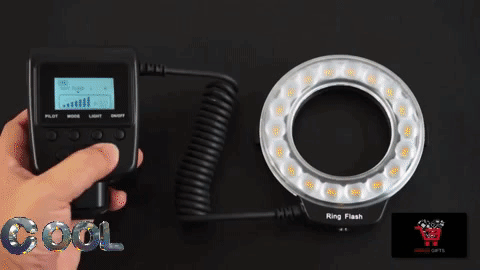 *It is consisted of 32 pieces of LED of high brightness and the average color temperature is 5500k
*It could flash or provide the continuous light. The flash range is adjustable, the flash exposure compensation could be set to be +3EV or -3EV, and thus it is especially suitable for macro photography
*With the function of pre-flash, it is easy for you to judge the brightness of the light. The lights could be turned on fully or partially (on the left or right only)
*If the macro ring light is not used for 30 seconds, it would be in the "Deep Sleep" status. You could press any button or release shutter to wake up the light
*Power: 4 AA Batteries ( Regular and rechargeable ones are both compatible)
*With 7 adapter rings with the diameters of 52mm, 55mm, 58mm, 62mm, 67mm, 72mm and 77mm, it could be used with all kinds of lenses
Specifications:
*Guide Number: 15GN
*Flash Range: 5--150cm
*Color Temperature: 5500k
*Sync Speed: 1/100S
*Power: 4 × AA Batteries *Weight of the Kit: Approx. 230g (8.2oz)
Good Product
This is an excellent for macro photography
worthless junk
It was a worthless piece of junk. didn't work out of the box. completely faulty plastic junk. even if it had worked it was worthless because none of the adapter rings worked on my standard nikkor macro lens.
Should have checked eBay first!
This is all over eBay at $25. Shipping is also free!
Nice but!!
Lots of accessories but the unit will not auto flash from my Cannon Hot shoe. Needs better operating instructions.